Twenty-six research services with eight industry partners were joined by over sixty researchers at the fourth BadgerConnect Research Services Fair on November 18th, 2021.    The free half-day in-person event featured a talk on Circadian Disruption in Pancreatic Cancer by Dr. Sean Ronnekleiv-Kelly, followed by discussion with a panel of six service cores that work together to create and characterize tumor models in his research. The afternoon continued with four workshops and culminated with a networking reception. In addition, multiple pre-recorded core flashtalks and tutorials were posted before, during and after the event.  Please scroll down for an interactive agenda with links to recordings of the live sessions, plus links to the pre-recorded flashtalks and tutorial videos, and more…
For questions, email badgerconnect@cancer.wisc.edu

#BadgerConnect21
For registering and attending BadgerConnect, and every time you tweet #BadgerConnect21, you'll be entered in a Prize Drawing that will occur at the Networking Reception!
Congratulations to our Winner, Caroline Hopkins!
And congratulations to our Winner of the Industry Partners Code Words drawing at the reception, Chandra Miryala!
Each prize winner received a voucher good for services (up to $200) at any one of the BadgerConnect 2021 participating Research Services.
Key Themes
Discuss projects with UW life science research services
Learn about cutting-edge technologies and the latest products provided by the services and their industry partners
Discover how your colleagues' research has been supported by UW research services
THANK YOU TO OUR PARTICIPATING RESEARCH SERVICES AND INDUSTRY PARTNERS WHO HELPED MAKE THIS VIRTUAL EVENT POSSIBLE. FOR MORE INFORMATION AND A COMPLETE LIST, PLEASE SCROLL DOWN!
BadgerConnect 2021 Agenda
This is an accordion element with a series of buttons that open and close related content panels.
12:30 - 1:10 pm Registration/Networking
Registration table and networking at booths open at 12:30pm.
1:10 - 1:55 pm Welcome and Invited Researcher Talk
Dr. Sean Ronnekleiv-Kelly will give a talk on "Circadian Disruption in Pancreatic Cancer" and discuss how he partners with research services to facilitate his research. This presentation will highlight how circadian dysregulation enhances pre-cancer lesion formation in the pancreas, and how disruption of the core circadian clock contributes to pancreas cancer progression. Click here to view the recorded talk on YouTube.
1:55 - 2:05 pm Break
2:05 - 2:45 pm Panel Discussion
"Assembling research pipelines to create and characterize tumor models"
Join Dr. Ronnekleiv-Kelly and a panel of six research services to discuss how research core pipelines create and characterize tumor models and can be utilized to facilitate your research. Click here to view the recorded Panel Discussion on YouTube. 
2:45 - 3:00 pm Break
3:00 - 3:30 pm Workshops
| Workshop Title | Finding, Importing, and Rescuing Valuable Rodent Research Models | High Parameter Spectral Cell Sorting | |
| --- | --- | --- | --- |
| Research Core | Genome Editing and Animal Models Core | Flow Cytometry Laboratory | |
| Description | Having trouble breeding your mice or rats? Need help with reproductive experiments? Learn some of the new services the Animal Models core in the Biotech Center can offer and learn to navigate the newest website to find mouse models available from international sources. | The UWCCC Flow Lab recently submitted an NIH High End Instrumentation grant application for the ThermoFisher Bigfoot High Parameter Spectral Cell Sorter. This workshop will provide an overview of the instrument and how it will enhance flow and spectral cytometry capabilities available on campus. | |
| Room Number | 1225 | 1229 | |
3:30 - 3:45 pm Break
3:45 - 4:15 pm Workshops
| Workshop Title | Advanced Genome Editing in Cell Lines at Biotech | Spatial and Molecular Profiling | |
| --- | --- | --- | --- |
| Research Core | Genome Editing and Animal Models Core | Translational Research Initiatives in Pathology | |
| Industry Partner | IDT | NanoString | |
| Description | The Genome Editing core can lend their CRISPR expertise and advanced instrumentation to help you build the cell lines you need for your cancer research. We work routinely with many cell lines and can help you with your primary cell editing or pooled genome-wide screening. Check in to learn and discuss what options are available for the cells you need to advance your research. | TRIP offers an array of spatial and molecular profiling services to fulfill your project needs. In this talk we will focus on the GeoMx Digital Spatial Profiler (DSP) system from NanoString, which maps gene and protein expression respective to tissue sections. In addition, we offer the nCounter MAX system from NanoString, to quantitate protein and nucleic acids from various types of tissues and bodily fluids. The GeoMx DSP can be combined with the nCounter MAX system or NGS analysis for protein or nucleic acid quantitation. The GeoMx with NGS readout option requires additional sequencing services from our partners at UWBC Gene Expression Center (GEC). | |
| Room Number | 1225 | 1229 | |
4:15 - 4:30 pm Break
4:30 - 5:30 pm Networking Reception
Attendees will have the opportunity to network with research cores and industry partners. Appetizers (including gluten free and vegetarian options) and beverages will be provided.
Links to Recordings of the Live Sessions are included in the Interactive Agenda above.
Pre-Recorded Content
This is an accordion element with a series of buttons that open and close related content panels.
Accessible higher resolution imaging with structured illumination microscopy (SIM)
The Biochemistry Optical Core's SIM instrument sits comfortably between the simpler but lower resolution capabilities of a confocal and the more complex but higher resolution capabilities of a super resolution microscope. This tutorial would introduce SIM and offer a quick guide for setting up an experiment and taking your first SIM image.
Biochemistry Optical Core
How to Fill Out a Request Form in iLab
This video is a walk through of how to navigate project submission in iLab to help ensure your tissues are processed, cut, and stained the way you need.
Experimental Animal Pathology Laboratory
Targeting Cells for Analysis: How to Ensure You Are Measuring Your Cells of Interest
This tutorial will provide you with various tips and techniques for reliably identifying and measuring cell subpopulations via fluorescence based single cell analysis by flow cytometry. We will walk you through a typical data analysis workflow and will briefly cover the following topics: gating strategies, panel design tips, proper controls, and some common issues and troubleshooting tips. This tutorial assumes that the viewer has a basic understanding of multicolor flow cytometry.
Flow Cytometry Laboratory
Core Flash Talks
Eighteen Core facilities will participate with short video overviews of their core and how they serve research.
Participating UW Research Services/Centers
Sponsoring Industry Partners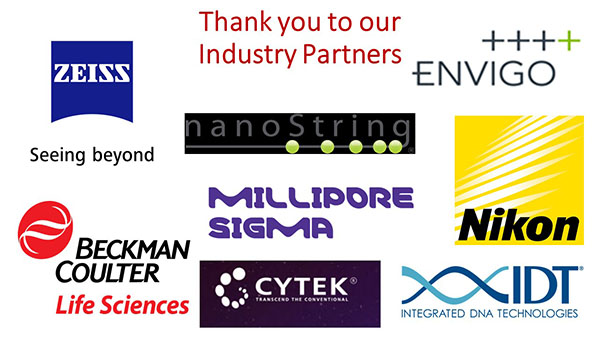 Highlights from 2020
Over 115 people attended the third annual BadgerConnect Research Services Fair that took place November 9-13, 2020. Virtual events throughout the week included a Core Panel Discussion about a research pipeline on campus, a Research Talk that highlighted how research services contributed to their projects, two core Webinars, and a culminating Networking Reception with the cores, vendors, and attendees. Many Core Flashtalks and Tutorials were posted online pre, during and post-meeting. Here are some fun facts from the 2020 BadgerConnect event:
This was our first virtual event! The flashtalks, tutorials, and most live events remain posted on the BadgerConnect 2020 Webpage for viewing.
27 different research services and 8 different vendors participated in the event.
86% of survey respondents said they would attend the event again in the future, and many said they would use a service as a result of information they learned at BadgerConnect
An average of 20 people attended each live event.
For questions, email badgerconnect@cancer.wisc.edu
To view highlights from last year's event, please visit the BadgerConnect 2020 page.