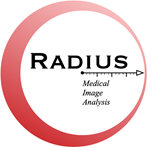 To provide imaging services to the University of Wisconsin Carbone Cancer Center clinical trials, CRIC  partnered with the image analysis group within the UW Department of Radiology Medical Imaging Research Support (MIRS). The image analysis group, previously known as MIRS-Image Analysis or MIRS-IA, has re-branded itself and is now Radius. 
The Radius re-brand will not affect any operations within cancer center clinical trials. Please contact Alex Arbuckle with any questions.
CRIC is excited to continue its relationship with Radius to provide tumor response assessments and scan de-identification and submission services to UWCCC Clinical trials. To date, 36 UWCCC clinical trials use the tumor response assessment service and another 98 clinical trials using the de-identification and submission service. CRIC looks forward to continuing its prosperous partnership with Radius  and further expanding our service lines.