Tissue Processing, Embedding, and Sectioning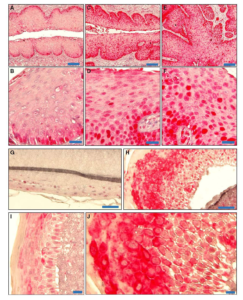 EAPL supports the research of Dr. Lambert (VR) and colleagues who focus on defining mechanisms through which human papilloma birus (HPV) influences development and progression of cancers of the anus, cervix, and oropharynx
EAPL processed and embedded tissues and generated serial sections from experimental and control mice
Supported by P01-CA022443 and P50-DE026787
Published in He et al. EMBO Mol Med, 2015 and den Boot et al. PNAS, 2015 with Newton (GEM) and Ahlquist (VR)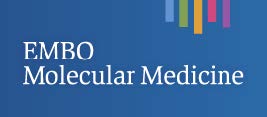 Immunohistochemistry (IHC) and Immunofluorescence (IF) Staining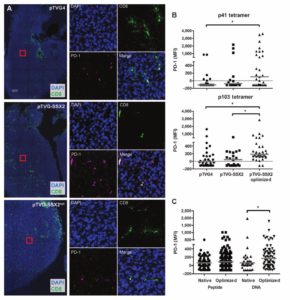 EAPL supports the work of Dr. McNeel (DT) and colleagues who demonstrated that immunization with a DNA-based vaccine elicited PD-1 expression on antigen-specific CD8+ T cells
The EAPL developed a custom IHC protocol for CD8 and prepared histologic sections of tumors from treated mice and controls
These data directly contributed to the ongoing Phase I/II clinical trial in advanced prostate cancer of the UWCCC-developed DNA-based vaccine and the PD-1 inhibitor, pembrolizumab (NCT02499835)
Prostate Cancer Foundation Challenge Award
Published in Rekoske et al. Cancer Immunol Res, 2015


Special Stains
EAPL generated picrosirius red stained sections for Dr. Shull (GEM), Dr. Sullivan, and colleagues
This service enabled the use of second harmonic generation imaging microscopy to evaluate the extracellular matrix and associated collagens as a biomarker of susceptibility to estrogen-induced mammary cancer in genetically defined rat models
Supported by R01-CA077876; Susan G Komen Breast Cancer Foundation (KG081343); DoD Breast Cancer Research Program (W81XWH-11-1-0175)
Published in Ding et al. BMC Cancer, 2013 with Eliceiri (TM) and Sullivan.
Research reported in the following list of select publications utilized the services of EAPL:
Kim EJ, Liu P, Zhang S, Donahue K, Wang Y, Schehr JL, Wolfe SK, Dickerson A, Lu L, Rui L, Zhong X, Wisinski KB, Yu M, Suzuki A, Lang JM, Ong IM, Xu W. BAF155 methylation drives metastasis by hijacking super-enhancers and subverting anti-tumor immunity. Nucleic Acids Res.. 2021 DEC 02; 49(21):12211-12233. DOI: 10.1093/nar/gkab1122. PubMed PMID: 34865122; PMCID: PMC8643633.
Carr RM, Vorobyev D, Lasho T, Marks DL, Tolosa EJ, Vedder A, Almada LL, Yurcheko A, Padioleau I, Alver B, Coltro G, Binder M, Safgren SL, Horn I, You X, Solary E, Balasis ME, Berger K, Hiebert J, Witzig T, Buradkar A, Graf T, Valent P, Mangaonkar AA, Robertson KD, et al. RAS mutations drive proliferative chronic myelomonocytic leukemia via a KMT2A-PLK1 axis. Nat Commun. 2021 MAY 18; 12(1):2901. DOI: 10.1038/s41467-021-23186-w. 2021 May 18. PubMed PMID: 34006870; PMCID: PMC8131698.
Vellky JE, McSweeney ST, Ricke EA, Ricke WA. RNA-binding protein DDX3 mediates posttranscriptional regulation of androgen receptor: A mechanism of castration resistance. Proc. Natl. Acad. Sci. U.S.A.. 2020 NOV 10; 117(45):28092-28101. DOI: 10.1073/pnas.2008479117. 2020 Oct 26. PubMed PMID: 33106406; PMCID: PMC7668093.
Chamberlin T, Clack M, Silvers C, Kuziel G, Thompson V, Johnson H, Arendt LM. Targeting Obesity-Induced Macrophages during Preneoplastic Growth Promotes Mammary Epithelial Stem/Progenitor Activity, DNA Damage, and Tumor Formation. Cancer Res.. 2020 OCT 15; 80(20):4465-4475. DOI: 10.1158/0008-5472.CAN-20-0789. 2020 Aug 31. PubMed PMID: 32868380; PMCID: PMC7572601.
Wei T, Choi S, Buehler D, Anderson RA, Lambert PF. A PI3K/AKT Scaffolding Protein, IQ Motif-Containing GTPase Associating Protein 1 (IQGAP1), Promotes Head and Neck Carcinogenesis. Clin. Cancer Res.. 2020 JAN 01; 26(1):301-311. DOI: 10.1158/1078-0432.CCR-19-1063. 2019 Oct 9. PubMed PMID: 31597661; PMCID: PMC6942630.
Kumar M, Salem K, Michel C, Jeffery JJ, Yan Y, Fowler AM. 18F-Fluoroestradiol PET Imaging of Activating Estrogen Receptor-α Mutations in Breast Cancer. J. Nucl. Med.. 2019 SEP 01; 60(9):1247-1252. DOI: 10.2967/jnumed.118.224667. 2019 Mar 8. PubMed PMID: 30850489; PMCID: PMC6735277.
Long Y, Wei H, Li J, Yao G, Yu B, Ni D, Gibson AL, Lan X, Jiang Y, Cai W, Wang X. Effective Wound Healing Enabled by Discrete Alternative Electric Fields from Wearable Nanogenerators. ACS Nano. 2018 DEC 26; 12(12):12533-12540. DOI: 10.1021/acsnano.8b07038. 2018 Nov 29. PubMed PMID: 30488695; PMCID: PMC6307171.
Yao G, Kang L, Li J, Long Y, Wei H, Ferreira CA, Jeffery JJ, Lin Y, Cai W, Wang X. Effective weight control via an implanted self-powered vagus nerve stimulation device. Nat Commun. 2018 DEC 17; 9(1):5349. DOI: 10.1038/s41467-018-07764-z. 2018 Dec 17. PubMed PMID: 30559435; PMCID: PMC6297229.
Nyman PE, Buehler D, Lambert PF. Loss of Function of Canonical Notch Signaling Drives Head and Neck Carcinogenesis. Clin. Cancer Res.. 2018 DEC 15; 24(24):6308-6318. DOI: 10.1158/1078-0432.CCR-17-3535. 2018 Aug 7. PubMed PMID: 30087145; PMCID: PMC6295262.
Salem K, Kumar M, Yan Y, Jeffery JJ, Kloepping KC, Michel CJ, Powers GL, Mahajan AM, Fowler AM. Sensitivity and Isoform Specificity of 18F-Fluorofuranylnorprogesterone for Measuring Progesterone Receptor Protein Response to Estradiol Challenge in Breast Cancer. J. Nucl. Med.. 2018 JUL 20; . DOI: 10.2967/jnumed.118.211516. 2018 Jul 20. PubMed PMID: 30030339.
Xu C, Chen F, Valdovinos HF, Jiang D, Goel S, Yu B, Sun H, Barnhart TE, Moon JJ, Cai W. Bacteria-like mesoporous silica-coated gold nanorods for positron emission tomography and photoacoustic imaging-guided chemo-photothermal combined therapy. Biomaterials. 2018 MAY 01; 165:56-65. DOI: 10.1016/j.biomaterials.2018.02.043. 2018 Feb 23. PubMed PMID: 29501970; PMCID: PMC5880312.
Chan SR, Salem K, Jeffery J, Powers GL, Yan Y, Shoghi KI, Mahajan AM, Fowler AM. Sex as a Biologic Variable in Preclinical Imaging Research: Initial Observations with 18F-FLT. J. Nucl. Med.. 2018 MAY 01; 59(5):833-838. DOI: 10.2967/jnumed.117.199406. 2017 Dec 7. PubMed PMID: 29217733; PMCID: PMC5932529.
Shea MP, O'Leary KA, Fakhraldeen SA, Goffin V, Friedl A, Wisinski KB, Alexander CM, Schuler LA. Antiestrogen Therapy Increases Plasticity and Cancer Stemness of Prolactin-Induced ERα+ Mammary Carcinomas. Cancer Res.. 2018 APR 01; 78(7):1672-1684. DOI: 10.1158/0008-5472.CAN-17-0985. 2018 Jan 23. PubMed PMID: 29363543; PMCID: PMC5882549.
Salem K, Kumar M, Powers GL, Jeffery JJ, Yan Y, Mahajan AM, Fowler AM. 18F-16α-17β-Fluoroestradiol Binding Specificity in Estrogen Receptor-Positive Breast Cancer. Radiology. 2018 MAR 01; 286(3):856-864. DOI: 10.1148/radiol.2017162956. 2017 Sep 25. PubMed PMID: 28956736; PMCID: PMC5882239.
Olson BM, Gamat M, Seliski J, Sawicki T, Jeffery J, Ellis L, Drake CG, Weichert J, McNeel DG. Prostate Cancer Cells Express More Androgen Receptor (AR) Following Androgen Deprivation, Improving Recognition by AR-Specific T Cells. Cancer Immunol Res. 2017 DEC 01; 5(12):1074-1085. DOI: 10.1158/2326-6066.CIR-16-0390. 2017 Oct 19. PubMed PMID: 29051161; PMCID: PMC5873299.
Cheng L, Jiang D, Kamkaew A, Valdovinos HF, Im HJ, Feng L, England CG, Goel S, Barnhart TE, Liu Z, Cai W. Renal-Clearable PEGylated Porphyrin Nanoparticles for Image-guided Photodynamic Cancer Therapy. Adv Funct Mater. 2017 SEP 13; 27(34). DOI: 10.1002/adfm.201702928. 2017 Jul 26. PubMed PMID: 29151826; PMCID: PMC5687274.
Ni D, Jiang D, Valdovinos HF, Ehlerding EB, Yu B, Barnhart TE, Huang P, Cai W. Bioresponsive Polyoxometalate Cluster for Redox-Activated Photoacoustic Imaging-Guided Photothermal Cancer Therapy. Nano Lett.. 2017 MAY 10; 17(5):3282-3289. DOI: 10.1021/acs.nanolett.7b00995. 2017 Apr 20. PubMed PMID: 28418679; PMCID: PMC5495651.
Liu Z, Pouli D, Sood D, Sundarakrishnan A, Hui Mingalone CK, Arendt LM, Alonzo C, Quinn KP, Kuperwasser C, Zeng L, Schnelldorfer T, Kaplan DL, Georgakoudi I. Automated quantification of three-dimensional organization of fiber-like structures in biological tissues. Biomaterials. 2017 FEB 01; 116:34-47. DOI: 10.1016/j.biomaterials.2016.11.041. 2016 Nov 25. PubMed PMID: 27914265; PMCID: PMC5210183.
Prior Accomplishments
Dr. Dove's research team developed the Pirc rat as an alternative animal model of colon cancer. The Pirc rat harbors an ENU-induced mutation in Apc and develops macroadenomas and locally invasive adenocarcinomas of the colon at a high incidence (Figure 1; paraffin sections and H&E stained slides prepared by EPL). Importantly, the distribution of colon tumors in the intestinal tract of the Pirc rat closely resembles that of humans.
H&E stained slides (panels A-E) demonstrate invasion into the tumor stalk (A, B) and high grade dysplasia (C) in the Pirc rat tumors. Immunofluoresence staining for b-catenin reveals increased nuclear and cytoplasmic b-catenin in tumor cells in larger tumors (F, G) and in microadenomas (I, J). H&E stained tissues corresponding to the immunofluoresence images are shown in E and H.

Dr. Kenney's team investigated the role of lytic viral infection in EBV pathogenesis and tumorigenesis in a new humanized NOD/LtSz- scid/IL2Rγnull (hNSG) mouse model that provides a more realistic immune background for EBV infection (Figure 2; paraffin sections prepared by EPL and H&E stained by EAPL). Infection appeared well controlled in some animals, but others eventually developed CD20+ diffuse large B cell lymphomas (DLBCL; tumors occurred more commonly in control vs. replication defective virus infected animals. Dr. Sullivan served as the consulting pathologist and co-author for this study.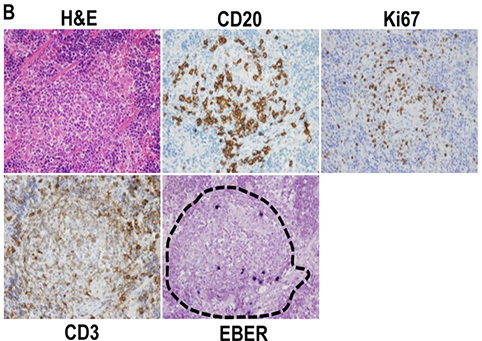 EBV-positive cells travel to specific regions of the reconstituted mouse spleen. H&E, EBV, CD20, CD3, and Ki67 staining was performed on spleen. EBV-positive cells were primarily located in the CD20-rich lymphoid zones (outlined with hatches) of the spleen.

Patricia Keely, PhD – Tumor Microenvironment Program
Advanced microscopy and analysis methods allow a wealth of molecular information to be obtained optically from tissues. Matthew Conklin, PhD of the Keely Laboratory has shown in paraffin sections prepared by the EAPL that neoplastic tissue in the MMTV-PyVT mouse model of mammary cancer differs from nearby normal mammary epithelium in the intensity and lifetime of NADH and FAD (Figure 3). This finding is consistent with the underlying metabolic differences that generally exist in neoplastic vs normal tissue and may provide an optical marker of neoplastic transformation.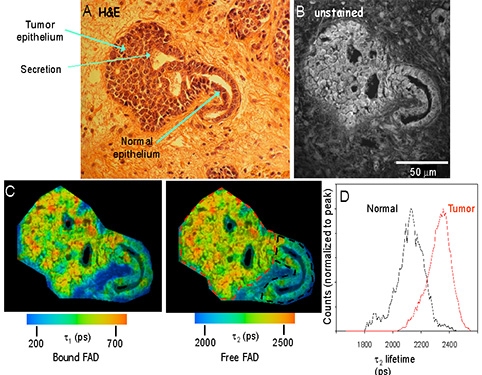 Fluorescence Lifetime Imaging Microscopy (FLIM) analysis of archived mouse samples: The fluorescent properties of normal and tumor epithelium differ. (A) H&E stained mouse mammary tumor showing normal and neoplastic tissues. (B) Fluorescence intensity image of the sequential unstained slide at 890nm excitation. (C) Color maps of the 1 (left) and 2 (right) components of the fluorescence lifetime, which illustrate the relatively longer lifetime values in tumor cells compared to normal epithelium. (D) Histogram analysis measuring the range of lifetime values of the two regions of interest drawn in (C) reveals the shift to longer lifetimes in tumor (red lines) cells compared to normal epithelium (color outline).