GEAM's selected scientific accomplishments include Dr. Michael Gould's research to identify genetic determinants of breast cancer risk and strategies for breast cancer prevention, Dr. Jing Zhang's work on the role of Kras on hematopoietic malignancies and leukemia and Dr. Paul Lambert's research on the roles of the human papillomavirus oncogenes in head, neck and cervical cancer. Read more below.
Michael Gould, PhD – Cancer Genetics and Epigenetics Mechanisms Program
Mcs1a, a genetic locus that determines susceptibility to mammary cancer in rats, was mapped by Dr. Gould's laboratory to a 277 kilobase interval on rat chromosome 2. GEAM generated this megadeletion mouse that encompassed the entire Mcs1a orthologous region. Transcriptomic analyses and chromatin looping experiments revealed Nr2f1 (aka Coup-tf1) as a gene that is regulated by the Mcs1a locus (PLoS Genetics 2013). A conserved Nr2f1 binding site was identified within Mcs1a that acts over a long distance to auto-regulate Nr2f1 expression. In turn, Nr2f1 regulates proliferation and differentiation of mammary epithelial cells and suggests that drugs could up regulate or activate Nr2f1 that may have utility for reducing breast cancer risk in individuals at high risk.

Paul Lambert, PhD – Human Cancer Virology Program
Dr. Lambert's laboratory studies the roles of the human papillomavirus (HPV) oncogenes on several human cancers, including head, neck and cervical cancer. Analysis of the HPV16 (E6, E7 and E6/E7) transgenic mice and the Esr1 knockout mouse generated by GEAM demonstrate for the first time that expression of Esr1, which encodes estrogen receptor-alpha, in the cervical stroma is required for development of cervical cancers (Horm Cancer 2013), as well as in recent studies that HPV-induced cervical cancers regress in response to estrogen receptor antagonists, but recur upon cessation of treatment (Am J Pathol 2014). The role of stromal Esr1 in development and progression of cervical cancers was further demonstrated by Dr. Lambert's laboratory through molecular characterization of human derived biospecimens (PNAS 2015).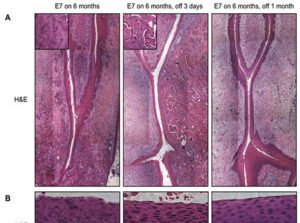 Jing Zhang, PhD – Developmental Therapeutics Program
Dr. Zhang's laboratory studies the mechanisms of self-renewal of hematopoietic stem cells. K-ras is one of the most frequently mutated genes identified in human patients with various hematopoietic malignancies. GEAM generated knockout mice in which a fraction of the mice develop endogenous oncogenic Kras-induced hematopoietic malignancies, including acute T-cell lymphoblastic leukemia/lymphoma and myeloproliferative neoplasm (Leukemia, 2016, Stem Cells, 2016).