Selected scientific accomplishments from the SMSF are below. These include research from James Keck, George Wilding, David Jarrard, and Mark Burkard.
Computational Modeling & Docking
James Keck, PhD – Cell Signaling Program
NIH R01 GM068061
CFAM (2-[2-chloro-5-(trifluoromethyl)anilino]-5-methoxybenzoic acid) identified in HTS at Small Molecule Screening Facility (SMSF) by disruption of protein interaction involved in genome maintenance.
CFAM co-crystalized with target Exonuclease I (in black in Figure).
In-silico docking of 400,000 compound database identified compounds (in gold in Figure) for CFAM binding site that are currently being tested for improved potency and selectivity.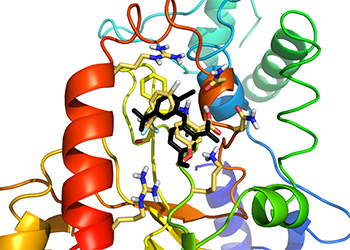 Synthesis
PI: George Wilding, MD – Experimental Therapeutics Program
Study Chair: William Schelman, MD, PhD – Experimental Therapeutics Program
NCI U01 CA062491
UWCCC 3P Laboratory needed [13C]6-bortezomib as an internal standard to develop a method to detect plasma concentrations of bortezomib for a Phase I study of Suberoyalanilide Hydroxamic Acid (SAHA) in Combination with Bortezomib in Patients with Advanced Malignancies.
SMSF synthesized and purified 13C-labeled bortezomib.
3P successfully developed the method.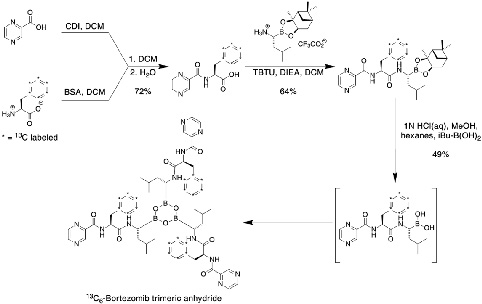 Screening
David Jarrard, MD – Cell Signaling Program
NCI R01 CA97131
Induction of senescence may be useful for cancer treatment.1
HTS at SMSF identified compounds that induce senescence from a 4160 compound library (Figure).
Candidate compounds selected based on secondary assays for persistent growth arrest after drug removal and increased expression of previously described senescence marker genes.
Four compounds not previously associated with senescence identified for further investigation (diazequone, bithionol, dichlorophene, pyrithione)2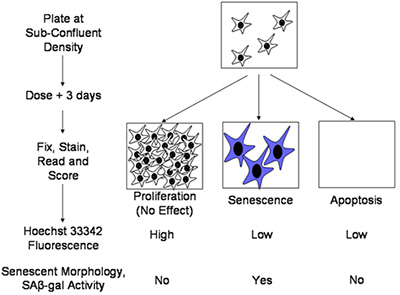 References:
1Ewald JA, Desotelle JA, Wilding G, and Jarrard DF. Therapy-induced senescence in cancer. J Natl Cancer Inst, 2010;102(20):1536-46.
2Ewald JA, Peters N, Desotell, JA, Hoffman, FM, and Jarrard DF. A high-throughput method to identify novel senescence-inducing compounds. J Biomol Screen, 2009; 14(7):853-8.
siRNA Screening
Mark Burkard, MD, PhD – Cell Signaling Program
Mary Kay Ash Charitable Foundation Grant 013-10
Cancers harbor supernumerary chromosomes (polyploidy) that could provide a 'targetable' abnormality.
Derived matched diploid and tetraploid cell lines and performed a synthetic lethal siRNA screen of over 2000 targets.
A small number of siRNAs reduced 4N proliferation without affecting 2N proliferation (red box in Figure), including siRNAs to a number of potassium channels.
Potassium channel inhibitors might provide synthetic lethal effects on 4N cells and not on 2N cells and may make suitable therapeutics for polyploid cancers.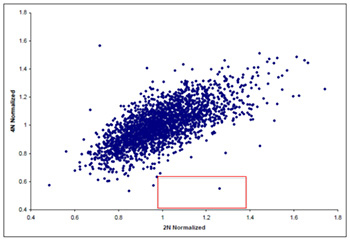 ACKNOWLEDGMENTS
Funding received from the UWCCC Cancer Center Support Grant (CCSG) for published research, including the use of UWCCC Shared Resources to generate or analyze data, or conduct clinical trials, needs to reference the UWCCC. See Acknowledging UWCCC in Publications, Posters, and Presentations.
View the UW Research Expertise website for more information on other UW–Madison laboratory facilities that provide state-of-the-art instrumentation and expert scientific staff.