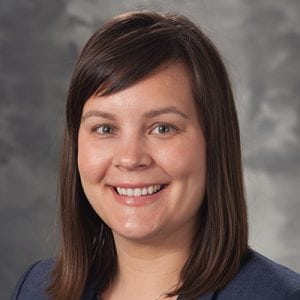 Allison received her bachelors degree from the UW-Madison in Psychology and Spanish and her Masters degree in Maternal and Child Health-Epidemiology from the University of Illinois-Chicago. She has over 10 years of experience with public health, and health services, research and administration. Most recently she was the Center Administrator for the Surgical Outcomes and Quality Improvement Center (SOQIC) at Northwestern University where she lead a team of faculty and staff researchers, conducted surgical education and outcomes research, and published various peer-reviewed manuscripts.
Where are you from?
Wausau, Wisconsin
How did you get into your field?
After graduating with an interest in psychology, I worked at the University of Chicago's Department of Health Studies doing research on adolescents with ADHD. The PI that I worked for was a Psychologist with a population sciences research lens. I took immediate interest in the work and was able to take a few courses in epidemiology and community health. Shortly after, I pursued my MPH in epidemiology.
What attracted you to the UW Carbone Cancer Center?
The position itself drew me to Carbone as I was able to pursue a career that blended my administrative and leadership skills with my Population Science/research background. I felt that I could do what I loved, while impacting the health of Wisconsinites. Carbone's wonderful reputation left me with no hesitation.
What are you enjoying most about your position? What would you consider the single most interesting part of your job?
I am still so new but am enjoying the positive, welcoming and collaborative working environment. I appreciate the team-based approach to things and the wide-reaching collaboration that I see happening. I find it fascinating to be surrounded by such motivated and engaged colleagues, doing very different work but sharing the same overarching goal.
How do you feel your work contributes to the goals of the cancer center?
I believe that providing administrative support for programs that educate on prevention and screening efforts, and address disparities in care, will have a downstream effect on reducing the rates of cancer across Wisconsin. The more I can support faculty and staff in their efforts, the broader the reach will be.
What is your favorite place on the UW-Madison campus?
Any place that serves Babcock Ice Cream.
What have you read lately and what was it about?
'Allegedly' by Tiffany D Jackson and 'Turtles all the Way Down' by John Green. Both are very quick 'young-adult' reads. Allegedly is a fictional story of a young girl accused of murder. The story addresses social issues such as race, mental illness and the criminal justice/foster system. It's a must read!
What is your guilty pleasure?
Home Goods.
Who would you like to be for a day?
Rick Steves (or any travel blogger).