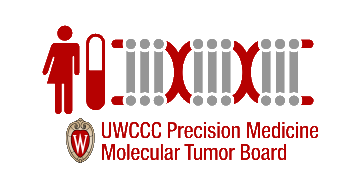 The Precision Medicine Molecular Tumor Board (PMMTB) is a statewide service available to oncologists at UW Health and throughout Wisconsin.
The Precision Medicine Molecular Tumor Board works in partnership with the UW Collaborative Genomics Core and the UW Carbone Cancer Center (UWCCC).
The PMMTB provides a forum for expert clinicians, pathologists and scientists to discuss and analyze tumor genotypes and molecular abnormalities in order to recommend patient specific targeted therapies.
The PMMTB is intended to supplement oncology tumor boards and includes a broad range of expert panel members.
Clinicians can submit a case to be presented for review by the PMMTB during their twice monthly meetings. If clinicians need help in ordering a genomic report, please email mtb@uwcarbone.wisc.edu.