Carbone Cancer Center Heidi Dvinge &
Patti Keely Trainee Society
Our Goal
The goal of the Carbone Cancer Center Heidi Dvinge and Patti Keely Trainee Society is to grow the involvement of trainees with the UW Carbone Cancer Center and foster a community of service. We are open to trainees of all levels who are working with our faculty and trainees doing cancer related research.
Our Purpose
The purpose of the UW Carbone Cancer Center Heidi Dvinge and Patti Keely Trainee Society is to serve and provide value to cancer research trainees. Specifically, trainees can expect:
Opportunities to interact with other trainees of all levels and research areas
Funding opportunities
Grass roots voice for trainee needs
The Trainee Society is growing…it's time for you to get involved!!
 The Trainee Society successfully kicked off two inaugural events the week of April 25. The first was an in-person, social event that brought trainees together from all areas of cancer research. They shared information, learned a little bit about each other and began to build relationships across the cancer spectrum. The second was a very information Seminar Series talk on "PI3K in Cancer" from the clinical and basic science perspectives. It brought method and discovery together in the fight against this terrible disease.
If you are a trainee related to cancer research and have not received information about society events or the "TGIF" weekly newsletter, please reach out to Mary Headington.
Don't miss the opportunity to be part of UWCCC Trainee Society.
Trainee Society Events
The UWCCC Trainee Society Seminar Series
All trainees are encouraged to
join us on Friday, April 29,
from 8:00-9:00 pm for a
VIRTUAL seminar series on
"PI3K in Cancer". Learn how
we are combining the clinical and basic
science perspectives on this topic.
Please click here to join us on 4/29.
Wellness Seminar Series
Join us for an IN-PERSON
discussion with Dr. Quinn on
Imposter Syndrome
Among Carbone Trainees
and Resources
June 24, 2022
12:30 – 1:30 pm
HSLC 1220
More information coming
soon!!
Faculty Advisor

Jane Churpek, MD, MS
Assistant Professor
Division of Hematology
Medical Oncology and
Palliative Care
Heidi Dvinge & Patti Keely Travel/Enrichment Awards
for graduate and medical students, residents, clinical and research fellows and postdocs
Check back here for the next award application coming in July, 2022!!
Congratulations to the recipients of the 3rd semiannual Heidi Dvinge and Patti Keely Trainee Honor Society Travel/Enrichment Awards!

This award was made possible by generous donors and is to provide support for full-time trainees to travel to events that will enhance their cancer research training.
Genevra Kuziel; Mentor: Lisa Arendt, Dept. of Comparative Biosciences
Katie Mueller; Mentor Krishanu Saha, Dept. of Biomedical Engineering
Rebecca Hutcheson; Mentor: Bill Sugden, Dept. of Oncology
Lily Miller; Mentor: John Denu, Dept. of Biomolecular Chemistry
Trenton Peters-Clark; Mentor: Joshua Coon, Dept. of Chemistry
Ngai Ting Chan, PhD.; Mentor: Wei Xu, Dept. of Oncology
Taja Lozar MD; Mentor: Paul Lambert, Dept. of Oncology
Zack Rosenkrans, PhD.; Mentor: Reinier Hernandez, Dept. of Medical Physics, Dept. of Radiology
Lauren Zebertavage, PhD, Mentor: Paul Sondel, Dept. of Pediatrics, Dept. of Human Oncology
Matthew Brunner, MD, Mentor: Aric Hall, UW Internal Medicine, Hematology/BMT Division
Additional Society Info
This is an accordion element with a series of buttons that open and close related content panels.
Current Trainee Society Leadership Team
Rebecca Hutcheson – Cellular &Molecular Pathology                          Lauren Banaszak – Chief Resident/Clinical Fellow
Alexa Barres Heaton – Hematology/Oncology                                       Mayra Betancourt Ponce – Ob-Gyn Gynecologic Oncology
Andrew Lynch – Hematology/Oncology                                                  Shawn Damodharan – Pediatric Oncology
Alexandra Soukup – Hematology                                                              Erica Hoffmann – Cell and Regenerative Biology
Rahul Das – Hematology/Oncology                                                          Taja Lozar – Oncology
Kristine Donahue – Oncology                                                                     Clayton Marcinak – Clinical Fellow/Department of Surgery
Lauren Montemorano – Ob-Gyn Clinical Fellow                                    Loyda Braithwaite – Hematology, Medical Oncology, Palliative Care
Jennifer Stevens – Oncology                                                                       Johanna Poterala – Medicine Clinical Fellow
Nan Sethakorn – Hematology/Oncology                                                 Tanaya Purohit – Urology
Cristina Paz – Surgery/Human Oncology                                                Jack Shireman – Neurological Surgery
Megan Bacabac – Grad Student
                                                                                                                   Recent Alumni of this Committee:
                                                                                                                         Jennifer Bird – Population Health PhD Graduate
                                                                                                                         Jeremy Kratz – Hematology, Medical Oncology and Palliative Care
Activities and Benefits
Quarterly advisory panel meetings

Recommendations on how they could benefit from the center, planning for honors opportunities, ideas to unify cancer related trainees

Review grant applications for undergraduate educational grants
Serve on the Carbone Research Retreat planning committee

Recommendations/Judging of trainee presentations and awards

Possible Honors

Society trainee specific funding opportunities (travel awards, small research awards)
Opportunities to speak at community events
Host Cancer Center tours or nominate other to lead tours
Best paper awards
Grand Rounds presentation
Membership Process
NOMINATION INFORMATION
Members will be added each year for the leadership cohort
2-year term
Application due date is in November 2022
Review and Notifications mid December 2022
APPLICATION PROCESS AND COMPONENTS
Work with your mentor to complete the application via Smartsheet. Link here (Fall of 2022) and scroll down to Open Nomination section.
Trainee – Brief statement of application
Trainee – Resume/biosketch
Mentor – Letter of recommendation
CRITERIA FOR SELECTION:
Trainee levels eligible – graduate, medical, postdoctoral, residents, fellows
Musts be working with Cancer Center faculty, conducting cancer-focused research and/or are engaged in oncology-related clinical training.
Trainee should have demonstrated involvement in research events, committees, cancer related organizations
Mentor recommendation on trainee demonstration or expression of research excellence, professionalism, dedication.
Please keep in mind UW-Madison's statement on diversity:
Diversity is a source of strength, creativity, and innovation for UW–Madison. We value the contributions of each person and respect the profound ways their identity, culture, background, experience, status, abilities, and opinion enrich the university community
Please contact members of the existing leadership team for more information on the society and their experiences at UWCCCtrainees@mailplus.wisc.edu
Research Resources
This society is named in honor and memory of two amazing scientists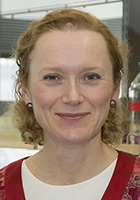 Heidi Dvinge, PhD, Assistant Professor of Biomolecular Chemistry and member of the Carbone Cancer Center, passed away unexpectedly in September 2019. With great sorrow over the loss of a brilliant young scientist, colleague, mentor and friend, we honor her memory and her scholarly work. Dvinge had been a member of the School of Medicine and Public Health faculty. Her research program was dedicated to understanding how misregulation of RNA processing contributes to disease, and how changes that occur in RNA splicing processes in cancer cells might be exploited to allow new therapeutic approaches. Her research interwove the disciplines of molecular biology, biochemistry, bioinformatics and oncology with a combination of precision and creativity. "She had the knowledge and ability to conduct science involving big data, but at the same time, she had finesse for experimental science in the lab — a very rare combination." Says Emery Bresnick, PhD, leader of the UW Carbone Cancer Center's Genetics and Epigenetics Program. The scientific world took note of Dvinge's brilliance: Over the past five years alone, her publications have been cited more than 4,600 times.
She was a skilled mentor to undergraduates and graduate students, serving as a faculty mentor in the Integrated Program in Biochemistry, the Graduate Program in Cellular and Molecular Biology, and the Genetics PhD program.
Patricia Keely, PhD, was Professor of Cell and Regenerative Biology and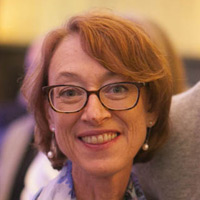 co-leader of the Tumor Micro-environment Group at Carbone Cancer Center. It would be easy to simply say Dr. Patti Keely was a world-class, nationally recognized breast cancer researcher at the University of Wisconsin School of Medicine and Public Health. And, that would be correct – but only part of the picture. Patti transformed her personal cancer diagnosis into experiential learning opportunities that inspired her to dive deeper in search of a cure for the disease. Keely died in 2017 of advanced pancreatic cancer. Her prolific research career, which includes countless publications, was most recently focused on cell signaling related to cellular differentiation and transformation and included her sentinel research on the role of the cellular micro-environment in the behavior of breast cancer cells.
Her leadership, mentor ship and her collaborative nature allowed her to make a tremendous impact in this world, according to Dr. Howard Bailey, associate dean for oncology and director of the Carbone Cancer Center. "She leaves behind a remarkable legacy as an outstanding scientist, dedicated mentor, strong academic leader, and caring and committed person," said Dr. Robert Golden, dean of the School of Medicine and Public Health.
CONTACT US
                                                                      Mary Nutt                                                                    Mary Headington 
                                                                  Assistant Director of                                                                 Cancer Research
                                                   Translational Research and Education                                             Training Coordinator
                                                                    mpnutt@wisc.edu                                                                 headington@wisc.edu