Jomol Mathew
Associate Director of Informatics
Associate Director of Informatics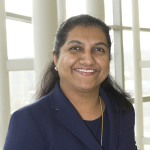 Jomol Mathew leads the Clinical and Health Informatics Institute (CHI2), housed within the Institute of Clinical and Translational Research (ICTR), and oversee the school-wide biomedical informatics enterprise.
Mathew joined the UW School of Medicine and Public Health from the University of Massachusetts Medical School, where she served in important roles including the Chief Research Informatics Officer, Associate Chief Information Officer, and Head of Research Technologies and Data Sciences.
"I am inspired by the opportunity to develop a broad research informatics vision and strategy to support SMPH's goals of precision medicine, population health, and translational research," she says. "I strongly believe that the integration of community, clinical, and research data, along with advanced data science, can help generate new research ideas and meaningful intervention points for clinical care."
During her tenure in Massachusetts she helped found the UMass Center for Data Driven Discoveries in Healthcare (D3Health), which researches, develops, and tests mobile health devices and digital sensors. Her work has used informatics to assist in a wide range of research, from assessing suicide risk to understanding social determinants of health.
Mathew earned her bachelor's and master's degrees from Kerala Agricultural University in Thrissur, India and her PhD from the University of Massachusetts Amherst. She also completed a postdoctoral fellowship at the New York University School of Medicine.
Along with the leading CHI2, Mathew develops and guides the research and strategy for the school's work in biomedical informatics, predictive analytics, precision medicine, and translational research. This includes leading or playing a role in informatics for the UW Carbone Cancer Center, Center for Human Genomics and Precision Medicine, and other school centers and units.
For Mathew, a thriving biomedical informatics infrastructure can set the stage for the school's researchers and physicians to deal with current and future public health issues.