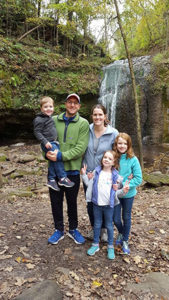 Q: Where are you from?
A: Growing up, I moved all over (born in Savannah). But I finished high school and college in Texas (Hook'em)
Q: What is your educational and/or professional background?
A: I'm constantly learning and hope that is true until the day I retire, but I somehow convinced the University of Texas and DePaul University to give me degrees in Business and a Masters of Health Administration.
Q: How did you get into your field (of research)?
A: After finishing my undergrad, I didn't want to work for a big accounting firm or continue working in financial real estate development. Instead, I packed my small Honda and drove north to Chicago. For some reason a fancy firm hired me to do billable marketing analysis for their clients The Cleveland Clinic and Resurrection Health Care. Health care administrators were my main client contacts. Consulting in health care was pure serendipity, but it opened my eyes to a world of health care & research operations and a more "purposeful" or fulfilling use of my business background. I enrolled in graduate school at Rush Medical Center and then finished the second half of my Masters at DePaul. My focus was health care administration.
Q: What attracted you to UW Carbone Cancer Center?
A: Top five reasons I moved my family, so I could work at UWCCC: 5) my parents are mid westerners and I relate to the Midwest; 4) Howard's articulation of his vision; 3) shorter commuting times; 2) Carbone is a pillar of the community – and as a lifelong nomad, Carbone gives me an opportunity to be part of a community; and 1) limitless potential as a cancer center – and that should be appealing to anyone applying for a job at UWCCC, because it is not true for most places.
Q: What are you enjoying most about your position? What would you consider the single most interesting part of your job?
A: Every bit of the cancer center is dynamic. As proof, it takes a >2,500 page document to describe the University of Wisconsin Carbone Cancer Center.
Gratification for an administrator midway through a career is the opportunity to watch people, who I once upon a time hired, advance their own careers.
Q: Do you feel your work contributes to the goals of the cancer center?
A: My work is a product of smart people around me. I can't claim their contributions, and yet, I am lucky to benefit from their contributions.
Our overall goal is to serve Wisconsin, our patients, the clinicians, our employees, and our researchers. Servant leadership is a constant effort and my role exists to help others do their jobs each day I show up to the office.
Q: Can you share an 'elevator pitch' for your area of expertise? (or) What do you wish people knew about your position?
A: My real title is "Master of None" and my only expertise is the 1980's Trivial Pursuit game.
You can't be any good as an administrator, until you understand what you are bad at.
Q: What is your favorite place on the UW-Madison campus?
A: I wrote most of our NCI renewal at Union South's The Sett, where I was either mistaken for a graduate student or someone's lost parent. Decent food, but really large nice booths to eat and set-up a mobile office space for the day.
Q: What have you read lately and what was it about (i.e. books, blog, magazine, etc.)?
A: "Killing Pablo: The Hunt for the World's Greatest Outlaw" by Mark Bowden. The title is self-explanatory. US law enforcement's obsessive tireless pursuit of Pablo Escobar makes the book a good read.
Q: What is your guilty pleasure (e.g. reality TV, ice fishing)?
A: I'm a music omnivore. My Spotify lists are an extension of my personality and the names of my playlists are autobiographical.
Q: Who would you like to be for a day?
A: Every serious Longhorn fan wants to be Matthew McConaughey and stand on the sidelines for game day.